Dr Wesley Huupponen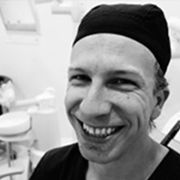 Dr Wesley graduated with Honours in Dentistry from the University of WA in 2002.  Dr Wesley has extracted thousands of wisdom teeth for his patients for over 12 years.  He receives regular referrals from other dentists and patients for difficult extractions and the removal of wisdom teeth.  His knowledge and experience in wisdom teeth removal have already helped thousands of patients with wisdom teeth pain, including many of our own dental nurses.
Dr Wesley owned and operated his own dental surgery in rural Kalgoorlie for over 8 years before relocating home to Perth.  He is an experienced, gentle and friendly dental surgeon, putting you at ease for your dental treatment.  He works together with many experienced dental sedationists and medical anesthetists to make your wisdom teeth removal safe, easy and comfortable through sleep dentistry.
Dr Wesley is an active member of the Australian Dental Association (ADA), registered with the Dental Board of Australia and operates from Perth Central Dental Centre (Twilight sedation/Sleep Dentistry), Colin Street Day Surgery (GA) and Kalgoorlie Regional Hospital (GA).